Dalia's Story
If going from a size 14 to a size 0 in 4-5 months without surgery seems like an impossible task, then be prepared to be shocked. That's exactly what I did with the help of the Advanced Medical Weight Loss Program.
I'm a very petite and young woman (5'1'' and 28 yrs old), so when my weight ballooned to 165 lbs I was considered obese. My body fat percentage was about 50% and my cholesterol level was in the highest lethal level. I was told that I could easily have a heart attack within the next couple of years even at my young age because of the high cholesterol. I knew I needed some help to get my body the way it should be. Doctor Muse immediately told me what my healthy weight range was (which was WAY lower than I ever thought was possible) and after hearing success stories, I had high hopes. Within my first week of being on the program, I had lost 7 lbs (which is a HUGE percentage on a petite frame like mine) and felt so much happier about myself. I also became very aware at how food affected my body. I noticed that if I ate the diet food the way I was supposed to, I never felt bloated or uncomfortable, but if I ate bad food at any time, my body would get upset and make me feel awful. I realized that the terrible feelings I got from eating unhealthy food has always happened, I just wasn't aware of it because I ate unhealthy food so often.
While on the diet, I was very motivated to work out and eat right as I saw my incredible fast results. Everyone at my job was in shock about how quickly my weight was dropping off. Also, with the vitamins that I had to take on the program, my skin, hair and nails never looked better! In the end, I ended up losing 50 lbs in 4 months (I could've lost it sooner had I not succumbed to weak moments!) my last bit of weight came off slower (another 3 weeks) because I was too busy shopping and showing off my new body to work out as much as I had been doing earlier. Once I met my weight loss goal (110 lbs), I decided to try on size 0 clothes. To my surprise, I fit them all.
Since I've met my goal on the program, I have since lost a few more lbs. It's not because I'm purposely trying to lose it, it's because of the new healthy and active lifestyle that I'm now accustomed to living. After 5 months of intense healthy living-it just becomes a habit! My cholesterol is at an amazing healthy level now and I no longer need to be on medication to regulate it. On this plan, if you stick to the guidelines, you WILL reach your weight goal. It's not something that's a possibility, it's something that is definitely going to happen as long as you keep at it and stay faithful to the plan. It's hard to lose weight when you're petite like me but I did it. Imagine how much you'll lose if you're NOT petite!
Before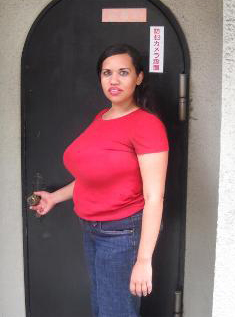 After