Chris's Story
Monumental Day!!! 100lbs
As some of you may or may not know, I have been on a small journey to make sure that there is "less" me.
Here's the story. I have had a struggle with loosing weight. When I left for my mission back in 2005 I was 235 lbs. I was able to maintain that weight for most of my mission until I tore my ACL. I was never able to really trust my repaired knee.
I started to put on weight because I was less active as I used to be. Well fast forward 5 years. I realized that I was starting to put on some weight and decided to try and do something about it. That was a bad idea. I popped my other ACL. Poof gone! Went in for surgery to have that one repaired.
I sort of went into a protective mode for my knees. Until one day I thought that I was still the athlete that I used to be. Played some Ultimate Frisbee with the youth from my church. I tore the replacement ACL from the first injury. For all those keeping score that's 3 ACL's, when standard issue is 2.
Operating out of self preservation I didn't exercise I didn't do much physically. And I put on a lot of weight. There were more things that contributed to the weight gain, but that's not what this is about.
Spin on to October of 2018
I was working one day and fell at work and broke my elbow. That was not awesome.
I went to doctors to get it all fixed up. They said that because I was so big going under the antithesis had lots of risks. That's never been said to me before. Kinda scary. Well that elbow got fixed. A month later I got a kidney stone 9mm's big. That doesn't really pass on it's own . So they had to go and get it. Again I was told that I was to big and that there were risks to going under antithesis. Well I was 386 lbs.
I knew that I had to start doing something… ANYTHING! I was desperate. I couldn't run or go to a gym or anything like that (because my 3rd ACL still isn't fixed).
I was considering weight loss surgery and even was calling insurance companies and seeing what they covered and what my cost would be.
That got around to my mom. She went into mama bear mode and didn't like that. And talked me into trying a different solution. Mom said she would do it with me.
On the advice of a family friend we were recommended to call Dr. Muse at Advanced Medical Weight Loss through his and his teams directions and help, as of today I have lost 100 lbs!!! I am down to 286 lbs!!! From March 25th to September 10! There is still more to go but this is a great start.
If you have any questions about what I've been doing or more information about Dr. Muse let me know.
Before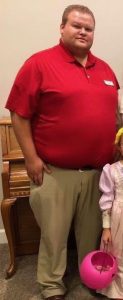 After